16 years old boy set to marry his 44 years old girlfriend
According to the update around, A mother cries out loud to the general public to please help her in solving the solution between her son and his girlfriend of 44yr old.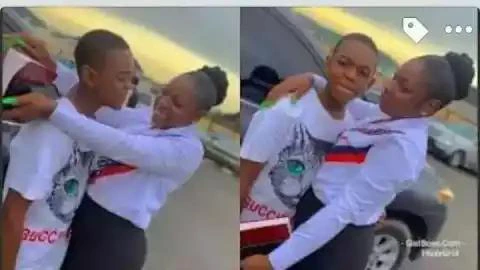 A boy that is just 16yr yet to have a (SSCE) certificate have been having an affairs with someone that is old enough to be his mother, according to the mother the relationship has started for a long time between them and that she didn't know of it. It come as a surprise to her when his teacher from school called her to inform that her son as not been attending school, she was shocked to hear that but not with a mind of seriousness after few days later his teacher called again to hear from her and her son, around this time she very curios and really adamant of the matter only to ask her son where has he been heading to when he leaves for school, only to hear from the guy mouth that I head to my girlfriend house.
So many questions she had ask her son and he tell his mum the right thing and to surprise it all he tells her mum he and his girlfriend will be getting married later that she should be ready.
COVID-19: Scammers dressed as doctors, set up fake Coronavirus testing sites, where they charge people $240 and steal their DNA
Local officials said a self-proclaimed medical marketing company set up makeshift testing sites outside various churches in Louisville with workers dressed head to toe in hazmat gear. They claim the scammers charge $240 a test and steal people's DNA and personal information.
At one site in Louisville, Kentucky, scammers dressed as doctors were offering fake coronavirus tests out of a convenience store parking lot in exchange for $240. They were also collecting credit card information and people's social security numbers, equipping them to steal their victims' identities.
Local authorities told the NYT that 100 people fell prey to the scheme before the scammers fled
Metro Council President David James and Louisville advocates have been hunting down who they call fake COVID-19 testers, reported WDRB.
"It's really Medicaid fraud, is what it actually is. There is no reason that you should spend $240 dollars for a COVID test," James said. "And they're using the same gloves on Person A that they used on Person B, that they used on Person C."
The officials said the group may be from Illinois as they believe the scammers are the same people who claimed to test people's DNA for diseases last year.
"They're the scum of the Earth and they're preying on the poorest of the poor, and I'm going to do everything in my power to get them the [explicit] out of Kentucky," James said.