Irvingia gabonensis
You will probably be wondering, what is this?
That is the scientific name for the condiment for the famous African delicacy: ogbono
Personally , I love this soup to the moon and back, it reminds me so much of my grandma. She actually taught me how to prepare this soup. Follow me if you want to find out my traditional recipe.
Apart from being a delicious soup condiment, the ogbono seeds and other parts of the tree have tremendous benefits. It is also known as biri by the Hausa, apon by the Yoruba, ogwi by the Benin, bush mango, dika bread tree etcetera. Funny enough, even though it is called a bush mango it is in no way similar to the mango fruit .
The ogbono tree is prevalent in wet and dry tropical areas. It is grown in farmlands, canopied bushes or gallery forests. .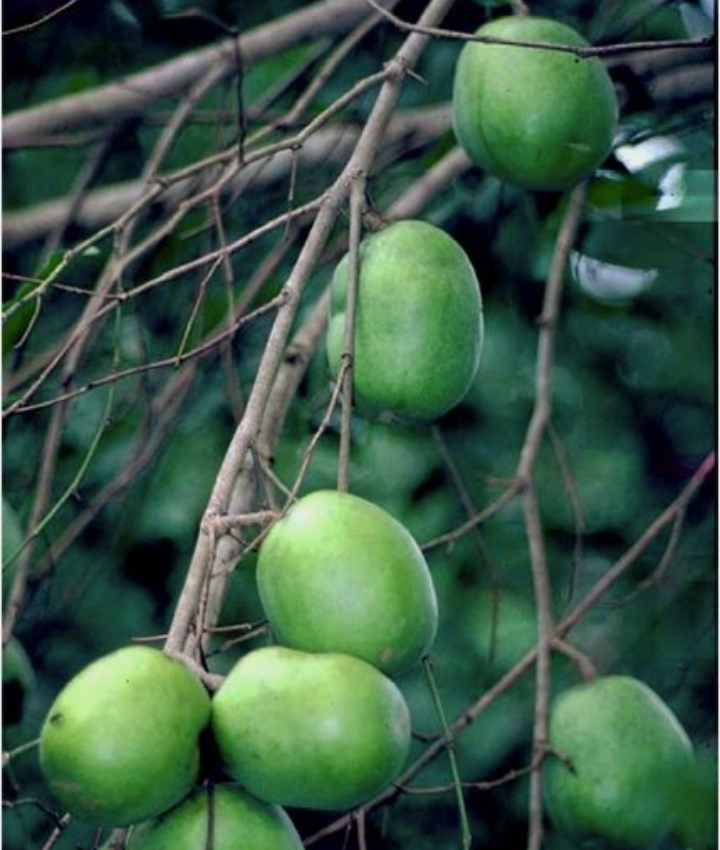 KEY BENEFITS OF OGBONO
1] EDIBLE PURPOSES
The Irvingia gabonensis fruit can be eaten as a fresh fruit. The pulp can be juiced and used for making jelly and smoothies. The seeds can be pressed for oil and the dried seeds can be used to prepare ogbono soup, chocolates ( interesting) and stew.
2] ANTIDIABETIC PROPERTIES
Ngondi et el [ 2005] agrees that the ogbono seed is capable of reducing glucose levels in obese patients and study has also validated that the extracts from the leaf and barks of the Irvingia gabonensis tree has more antidiabetic activity than the ethanolic extracts.
3] REGULATION OF CHOLESTEROL LEVELS
Study has shown that obese patients who were given Irvingia gabonensis had a significant decrease in cholesterol making ogbono suitable for its regulation.
4] WEIGHT LOSS AND MANAGEMENT
You say whaaaaaat, I love this particular benefit. Study on the African mango has shown that it suppresses hunger and helps to minimize food intake.
5] DYE
The juicy fruit pulp, not only is it just edible but can also be used to produce black dye for materials and shoes. The roots and barks of the tree also contain tannin, which is also suitable for dyeing.
Breaking News: First Case of Coronavirus Confirmed in Lagos
The Ministry of Health in Lagos State has confirmed its first case of COVID-19 and reported it to the Federal Ministry of Health. The case, which was confirmed on the 27th of February 2020, is the first case to be reported in Nigeria since the outbreak in China in January 2020.
The case is an Italian citizen who entered Nigeria on the 25th of Feburary from Milan, Italy for a brief business visit. He fell ill on the 26th February and was transfered to Lagos State Biosecurity Facilities for isolation and testing. COVID-19 infection was confirmed by the Virology Laboratory of the Lagos University Teaching Hospital, part of the Laboratory Network of the Nigeria Centre for Disease Control. The patient is clinically stable, with no serious symptoms, and is being managed at the Infectious Disease Hospital in Yaba, Lagos.
The Government of Lagos State under the Governor as the COVID-19 Incident Commander, through the Lagos State Ministry of Health, has been strengthening measures to ensure that any outbreak in Lagos is controlled and contained quickly in collaboration with the multi-sectoral Coronavirus Preparedness Group, led by the Nigeria Centre for Disease Control (NCDC). We have immediately activated the State Emergency Operations Centre to respond to this case and implement firm control measures.
I wish to assure all Lagosians and Nigerians that we have been strengthening our preparedness since the first confirmation of cases in China. We will use all the resources made available by the State and the Federal Government to respond to this case.
We are working to identify all the contacts of the patient, since he arrived in Nigeria. Please, be reminded that most people who become infected may experience only a mild illness and recover easily, but it can be more severe in others, particularly the elderly and persons with other underlying chronic illnesses. All Lagosians should take care of their health and maintain hand and respiratory hygiene to protect themselves and others, including their own families, following the precautions below:
Regularly and thoroughly wash your hands with soap and water, and use alcohol-based hand sanitiser.
Maintain at least 1 & half metres (5 feet) distance between you apnd anyone who is coughing or sneezing.
People coughing persistently or sneezing should stay indoors or keep a social distance, but not mix with a crowd.
Ensure that you and people around you follow good respiratory hygiene by covering mouths and noses with a handkerchief or tissue while sneezing or coughing. You can also sneeze or cough into your sleeve at the bent elbow.Then dispose of the used tissue immediately.
Stay indoors if you feel unwell with symptoms, such as fever, cough and difficulty in breathing. Please call Lagos State Emergency hotlines 08023169485 or 08033565529 or 08052817243 which are available day and night.
Stay informed on the latest developments about COVID-19 through official channels on TV and Radio, the Social Media, including the Lagos State Ministry of Health, NCDC and Federal Ministry of Health.
Citizens must not abuse social media and indulge in spreading misinformation that causes fear and panic. The Lagos State Ministry of Health, in collaboration with Nigeria Centre for Disease Control, will continue to provide updates and will initiate all measures required to prevent the spread of any outbreak in Lagos.
Prof Akin Abayomi
Commissioner for Health
Lagos State.
For Governor Babajide Sanwo-Olu
28 February, 2020.
below is a PDF file containing preventive measures to follow.